Calmootey 4-Tie Shoe Rack,Shoe Shelf Storage Organizer,Entryway,Bedroom,Black
Product Price
Product Review Score
4.99 out of 5 stars
57 reviews
Additional Product Details
【Robust and Durable】Constructed of reinforced plastic connectors, smooth metal tubes and durable, easy-to-clean non-woven fabrics.
【Easy to assemble】 The 1-piece plastic connector makes assembly easier and faster. Note that if the tube is difficult to assemble, try changing the orientation and make sure the metal tube is fully inserted into the plastic connector.
【Multifunctional】 It can hold various types of shoes, and can also be used as a storage rack, which can be placed in wardrobes, entrances, apartments, garages, etc. The top layer of non-woven fabric can also place small objects to prevent them from falling.
【Large Capacity】 Can hold 9-12 pairs of shoes, you can also assemble the layers according to your needs, or remove 1 of the layers to put high boots.
【High Quality After Sales】If you have any questions after receiving the shoe rack, please contact our customer service and we will try our best to help you.
Our Policies
Secure Checkout

Guaranteed safe & secure

Easy Returns

Fast & easy product returns
More options on eBay...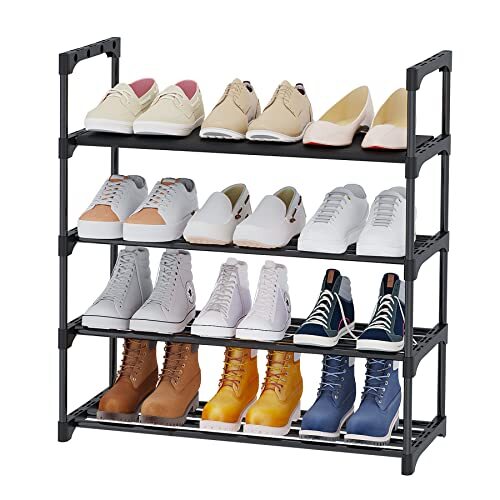 4-Tie Shoe Rack,Shoe Shelf Storage Organizer, Entryway, Bedroom - Black
Alcharlan.org